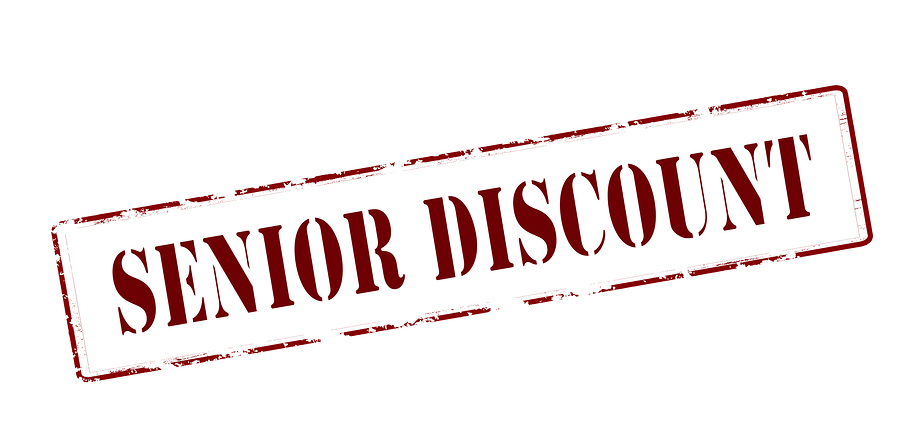 There's a silver lining to aging: free and discounted items!
Offered by both private and non-profit organizations, freebies and savings for older adults abound.
Some require AARP membership. Age eligibility varies too, with certain specials starting at age 50 and others at 60 or older.
Read below for a list of different types of senior specials available.
Entertainment Deals:
Dining: Many chains offer senior discounts and/or special savings on certain days. Those include Bonefish Grill, IHOP, Saltgrass Steak House, Outback Steakhouse, and McDonalds, among others.
Movies: AMC, Regal, Marcus, Showcases and Landmark Theatres all offer reduced senior prices for tickets or snacks.
Travel:

Airlines: Southwest, American, and Alaska Airlines offer distinct deals for older travelers.
Train: Amtrak gives discounts to senior riders, with restrictions varying based on ticket level and destination.
Parks: national park discounts are offered year-round and include reduced pricing on annual and lifetime memberships.
Car rentals: Most offer discounts or vehicle upgrades. Some have special programs, such as Hertz's Fifty Plus Program which can save renters up to 20% on certain rates.
Hotels: Marriott promises savings of up to 15% for guests who are 62 or older. Best Western, Comfort Inn and Crowne Plaza Hotels & Resorts also offer unique senior specials. Always ask for a senior discount before booking a room, both nationwide and abroad.
Finance Deals:
Tax deductions. Seniors are entitled to unique deductions. That includes taking a higher standard deduction starting at age 65. Additional credits and tax breaks vary depending on whether taxes are filed jointly or separately, and individuals' income bracket.
No IRA withdrawal penalties. As soon as you turn 59.5, you can take any amount out of your IRA and pay zero penalty. Just remember, income taxes will still accrue on whatever amount you take.
Healthcare Specials:
Medicare. Eligibility typically starts at age 65. Benefits include payment for medical appointments as well as hospitalization. Be mindful of uncovered costs such as co-payments and deductibles.
Dental. While dental insurance is not typically covered by Medicare, services are available to provide low-cost dental programs and free dentures for those who qualify. AAA can provide resources for such benefits as well as state dental associations and nearby dental schools.
Free hearing aids. The local Lions Club chapter can offer referrals to a hearing aid bank nearby. The organization helps match seniors in need with recycled devices. Manufacturers may also offer clinical trials with free hearing aids given to qualifying participants.
Gym membership. SilverSneakers is a national organization that offer discounts or free memberships for older people. They partner with thousands of local gyms throughout the country to provide exercise options for seniors.
Additional discounts for seniors are available at many grocery stores and for adult day care facilities. Also, many universities offer free tuition or deep discounts for older adults who want to take courses or pursue degrees.
Additional resources for seniors can be found at: local charities, religious organizations, and your local AAA.
At Silverman Financial, we strive to help you celebrate retirement by creating a financial roadmap that meets your unique needs and wishes. We offer complimentary consultations for new clients.
CALL TODAY TO SCHEDULE YOUR FREE CONSULTATION